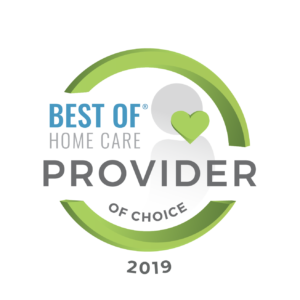 BONITA SPRINGS, FLORIDA – Life Home Health announced today that it has received the 2019 Best of Home Care – Provider of Choice Award from Home Care Pulse. The Provider of Choice Award is granted only to the top-ranking home care providers, based on client satisfaction scores gathered by Home Care Pulse, an independent satisfaction research firm for home care. Life Home Health is now ranked among a select few home care providers across the country who have proven their ability to provide outstanding care.
"We have built a culture of care that compassionately helps people navigate some of life's toughest challenges," says Kelly Occhiuzzo, the Managing Director of Life Home Health. "Choosing to hire a home care provider comes with all kinds of fears and uncertainties for people. What sets us apart from the other providers is that at Life Home Health we really understand the need to meet people where they are, to guide them through the uncertainty, to do more than just meet their needs. This goes for everyone we serve – our clients, care partners, community and especially each other. If someone truly feels heard and their needs are met with compassion, then everything falls into place and we set something very special into motion."
"We want to congratulate Life Home Health on receiving the Best of Home Care – Provider of Choice Award," says Erik Madsen, CEO of Home Care Pulse. "Since this award is based on client feedback, it demonstrates their dedication to providing the highest quality of care with a focus on client satisfaction. We are pleased to recognize Life Home Health's dedication to quality professionalism and expertise in home care."
Best of Home Care – Provider of Choice award-winning providers have contracted with Home Care Pulse to gather feedback from their clients by conducting live phone interviews with their clients each month. Because Home Care Pulse is a third-party company, it is able to collect honest and unbiased feedback.
"We're very pleased to be named as the Best of Home Care list" Occhiuzzo says. This award comes directly as a result of feedback from our clients and our care partners. It tells us that our dedication to providing excellent care is noticed by those who matter most.
"Our goal at Home Care Pulse is to empower home care businesses to deliver the best home care possible," says Erik Madsen. "We are happy to recognize Life Home Health as a Best of Home Care – Provider of Choice and to celebrate their accomplishments as a trusted home care provider."